A Vehicle Wrap on a Business Card?
Who would've thought it? (Not this guy!.. as I obviously didn't include it in Getting the Most out of Your Vehicle Wraps Part II post). Scott Berding and Katy Samuels, a brother and sister team in Cincinnati, took the idea and ran with it! In early 2010, Scott and Katy started Memories of Loved Ones (MOLO) and their first order of business was to buy a 35′ motor home and wrap it. The rest is history!

That vehicle wrap on their RV is now the backbone of MOLO's marketing efforts. Turning heads on the highway and making a great first impression with new potential clients just wasn't enough for Scott & Katy! The MOLO team not only wants you to notice them, they also want to be recognized. This led to the MOLO Mobile being front and center on their website, brochures, and the differentiating factor on their business cards. Heck, their vehicle wrap is even the default picture on their Facebook business page!!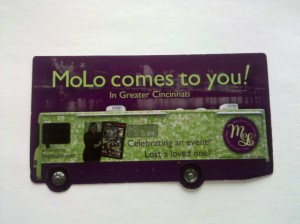 One other point I'd like to make about MOLO involves perception. Put yourself in the shoes of a potential client waiting on MOLO to arrive for a meeting. When the MOLO Mobile arrives at your house, what is your initial thought? Probably something along the lines of "Wow." That's what vehicle wraps do… they give the wow factor! With the wow factor comes the perception portion of this point. Perception is reality. A vehicle wrap makes businesses look the part, even makes companies with one vehicle appear to be much larger that they really are. My point? Those people who have met with MOLO are pleasantly SURPRISED at just how inexpensive their services are priced! Why? That I can't answer… but what I can say is that I have to believe the value of their first impression carries over into the perceived value of their services somewhat…