Getting The Most Out of Your Vehicle Wraps Part V
So you have a fleet of vehicles.  You saw the benefit of a vehicle wrap and invested wisely.  Every vehicle in your fleet now has a vehicle wrap on it.  Cost effective advertising at it's finest!  They are used daily.  Starting bright an early in the morning, they fight their way through rush hour traffic, providing viewing pleasure for those sick of the same old billboards that have been up for the past two weeks.  On to jobsites they go.  Whether it be a commercial site or residential, people know you are there!  Your vehicle wraps are making quality impressions, and in the residential sense, are owning the neighbourhood as nosey neighbors peer out their windows and/or drive by!  These same vehicles with your advertisements plastered in a big, bold, dynamic manner are now heading to the same lunch spots as the crowd.  Only to be followed by the original two steps over again, workplace and rush hour.  I bet you didn't realize your vehicle wraps worked so hard for you, and for so cheap!  All of that, for less than $5 a day.  But wait, there's more (said in my best Billy Mays' voice).  That's only the work days and working hours.  Are you really going to leave your billboards sitting over the weekend, all by themselves at your office?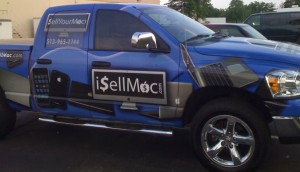 Brian Burke, owner of ISELLMAC.com and SellYourMac.com has a vehicle wrap on his Dodge Ram, advertising both of his websites.  He uses this truck to run all of his day to day errands, but also uses it as part of his marketing strategy!  Brian understands that his vehicle wrap is simply another piece of his advertising mix, and uses it as such.  If you visit his Facebook fan page, you're sure to find a couple pictures of his vehicle wrap being spotted in different places around town.  He has even tossed around the idea of giving a major discount for those who snap a picture (with their camera phone) and upload it to his fan page.  One thing Brian does really well when using his vehicle during and after work hours, centers around his parking.  Whenever he is looking for a parking spot, he determines the area that will get him the most impressions…which usually involves parking by the main road and hoofing it!  In the instance below, Brian parked his Mac vehicle wrap in front of the Apple store at a high-end shopping center in Cincinnati, Ohio.  Talk about hitting your target market at the point of purchase!  His truck screams "Buying a new Mac?  Sell me your old one."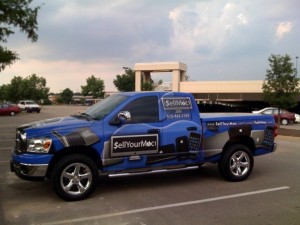 Vehicle wraps are three sided moving billboards, advertising your company 24 hours a day, that can be placed wherever you want!  With that being said, the next time you attend a sporting event, take your wrapped vehicle, get there early to get a prime spot, and pay the $25 to soak up the impressions.  Same with major shopping weekends; whether you're shopping or not shopping, take your vehicle wrap to a shopping hotspot and park it where the most people will see it.  These are just a couple examples of places that you can go to get more bang for your buck!  Have other ideas or suggestions. please share!