Getting the Most Out of Your Vehicle Wraps Part III
One goal most companies have in common revolves around growth.  This goal is one that most likely will fall in the 5+ year category, but why do companies want to be bigger?  A sign of success?  Greater income?  More leads?  Larger piece of the market share?  Job Security?  Trusted name?  What if you could change the perception of your company with one strategic marketing decision?  Putting vehicle wraps on your company vehicles will do just that!  The impression that vehicle wraps give off will pay dividends throughout the life of your company.  A vehicle wrap with the Advertising Vehicles Signature is going to convey: experienced, professional, reputable, big, trustworthy, and successful to your potential clients.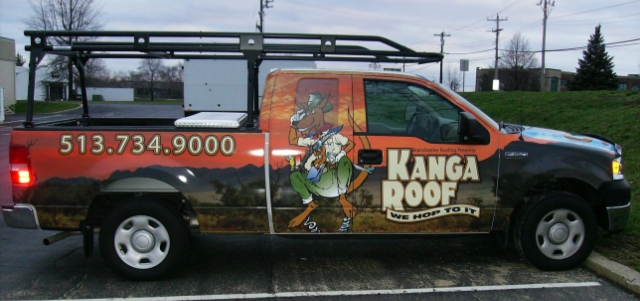 Brandstetter's Kanga Roof in Cincinnati, Ohio took advantage of the design portion of the vehicle wrap process to further the perception their vehicle wraps portrayed.  By using a different color on each side of their vehicle wrap while keeping the design the same, they increased the perceived size of their company!  How you ask?

Having residential as a portion of their business, Duane Brandstetter knew his fleet would be roaming the streets of neighborhoods looking for & servicing homes.  As a result of neighbors being nosey and addresses often being difficult to see, Duane went with a two color vehicle wrap.  While Duane's driver has driven down the same street twice looking for his job site, the nosey neighbors on that street feel as if they've seen two different Brandstetter's Kanga Roof  vehicles!  Duane's two color vehicle wrap just made his company seem twice as big as it really is…and if that was the nosey neighbor's first contact with Brandstetter's Kanga Roof, they just made one heck of a first impression!
Part IV will cover what Tri Weh did to get the most of out of their vehicle wraps in 2009!  Missed the first two parts to this series?  Check them out here, Part I and Part II.