Getting the Most out of Your Vehicle Wraps Part II
For most companies that have company vehicles, their fleet is the face of their company in the public.  The population not only sees these vehicles before they meet the driver, they also see them up and down the streets where they drive to eat, work, play, and shop.  In fact, company vehicles receive 30,000-70,000 impressions per day!  A vehicle wrap not only ensures you get the most possible impressions, it also makes sure each and every impression makes (and leaves) an impression!!
As stated above, vehicles are an essential piece of a company's marketing mix, and have potential to be a powerful medium! The greater the reach of your wrap Advertising and the more people that recognize it as yours, the greater the ROI right? Well lets get more eyeballs on those vehicle wraps!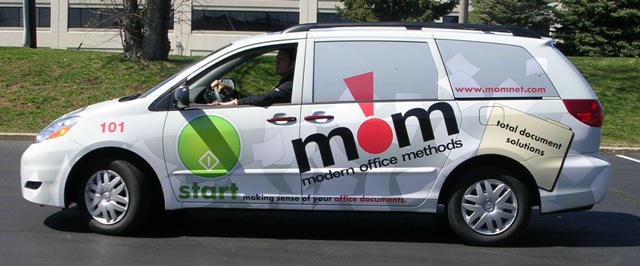 How you ask?  Market your vehicle wraps!  Help people recognize them as yours!  Take a picture of your vehicle wrap…how many different places could you put it?  Julie Italiano of Modern Office Methods (MOM) uses her vehicle wraps in all digital materials, from the MOM newsletter, to their website, to the MOM fan page!  Over at Teasdale Fenton Carpet Cleaners, Jim Olmstead has done a great job incorporating his fleet of vehicle wraps into his TV commercials.  In fact, Jim took it a step further and included his commercial on his website!  Both of these strategies are effective in increasing the reach & frequency of their vehicle wraps!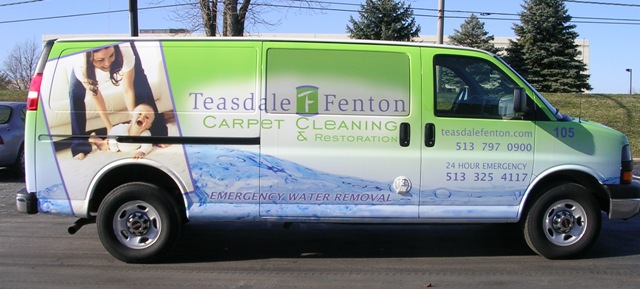 Part III of Getting the Most out of Your Vehicle Wrap will concentrate on Brandstetter Roofing and a strategy they employed…