Cincy Tennis Aces It!!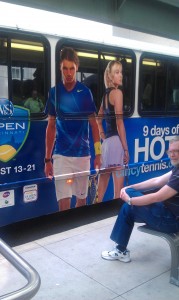 This year, Cincy Tennis (Western & Southern Open) decided to mix up their outdoor marketing. In an effort to reach more people, and drive ticket sales, they partnered with Advertising Vehicles to leverage their transit advertising solution.  They strategically picked the locations of their traditional billboards, making sure to have a message with a high frequency in targeted areas.  To amplify their reach in Greater Cincinnati as a whole, and have a message with a high frequency among downtown business executives, Cincinnati Tennis opted to put their message on Cincinnati Metro buses, and did so in a big way!
Cincy Tennis is also the most recent client to take advantage of ad extensions.  As you can see in the picture, extensions enable advertisers to increase the size of their ads and potentially use the windows to get a little creative!  Regardless of why they are used, one thing is for sure, they are definitely going to grab your attention, may even start a conversation!!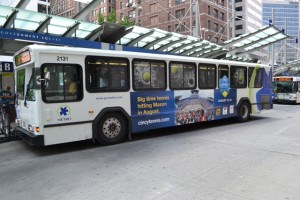 We are seeing a few trends among businesses.  More are leveraging ad extensions and the creativity they allow.  Businesses of all sizes are putting their message on multiple out of home advertising media!  And mostly, advertisers are beginning to see just how easy it is to not only reach affluent consumers & business executives, but have a high frequency with them as well…