With engagement season just around the corner, Richter & Phillips has partnered with SES Creations to create the ultimate diamond ring giveaway!  Knowing this campaign would be driven heavily through Out of Home advertising, Carol at Richter and Phillips decided the contest needed a website that was easily read and remembered.  The next day, WinTheDiamondRing.com was born!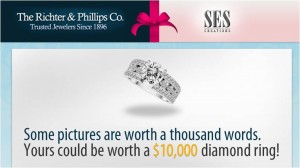 WinTheDiamondRing.com's marketing backbone is their campaign on Cincinnati Metro buses.  They have 25 Super Tail Billboards that put the promotion in different parts of the city, everyday.  Other promotional efforts can be found on an interstate 75 billboard heading north, on Kiss 107 FM, and strategically placed in venues throughout the suburbs of Cincinnati.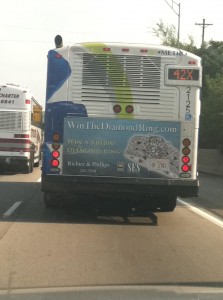 (Now the plug for the contest)  Anyone can enter this contest.  Single, looking to be engaged, engaged, or married!  First place is the $10,000 diamond ring from SES Creations and Richter and Phillips.  There will be nine (9) runner-ups who will each receive a $100 gift card to Richter and Phillips!  I know a $10,000 diamond ring is a present that doesn't need a gift receipt!!  Even if you don't win, a $100 is a great start to a holiday present from Richter and Phillips that will be loved!!!